Microsoft Defender Antivirus Review
Microsoft, as one of the biggest brands in the personal computer market, offered antivirus software for years. Past versions were less effective at protecting your computer. Not so for the latest edition, released in 2020 as Microsoft Defender Antivirus.
Formerly called Windows Defender, this software protects your computer from a specific class of cyber threat called malware, which includes computer viruses and spyware. Computers, referred to as "endpoints" by Information Technology (IT) teams, are common targets for cyberattacks.
They're vulnerable without endpoint security software to protect them.
The current Defender product incorporates features such as machine learning, data analysis, and Microsoft's cloud computing infrastructure to deliver improved device protection for your organization. Let's examine the new version to see if it's the best virus protection for your needs.
---
Who is Microsoft Defender Antivirus for?
Microsoft Defender Antivirus has one purpose: to protect your computers from malware. If you currently use a PC running on a Microsoft Windows operating system (OS), you already have it. Microsoft Defender Antivirus comes free as part of the OS.
It's made to operate seamlessly for PCs running on Windows 10. This fact allows Microsoft Defender Antivirus to quickly and efficiently scan your computer without impacting system performance.
Microsoft Defender Antivirus doesn't provide holistic endpoint protection on its own. It's coupled with a suite of software tools called Windows Security, formerly known as Windows Defender Security Center. These tools are preinstalled on Windows 10.
Microsoft Defender Antivirus works for personal and business use, whether you seek protection for a single home computer or multiple PCs in large corporations. Additional security features are available based on the type of software license purchased, such as Windows for home, school, or business.
Small business owners might use their personal computer for work, but holders of a Windows home license won't have the features needed by larger organizations. Businesses require the enhanced security included with a Windows Pro or Enterprise license.
The latter is necessary to grant IT teams access to key tools such as reporting. Also, upgrade your OS to Windows 10 if you haven't already. Older Windows versions are no longer supported.
If you are on a computer running an alternative to Windows, such as Linux or a Mac, Microsoft Defender is still an option. You'll just have to buy and install the software.
---
Microsoft Defender Antivirus features
Many PC users are accustomed to diligently shopping for antivirus software. With Microsoft Defender Antivirus included free on Windows 10 PCs, is there a need to pay for alternatives?
Let's look at the capabilities that protect your business while identifying the software's gaps.
Malware protection
The most important feature of any antivirus software solution is how well it protects computers from malware.
The old Windows Defender Antivirus was a bare-bones digital security option, and not recommended for business use. Microsoft stepped up its game by significantly upgrading Windows Defender, renaming it Microsoft Defender Antivirus to signal its substantial changes.
Today, Microsoft Defender Antivirus is one of the best antivirus software options for endpoint protection.
But don't take my word for it. The independent IT security testing organization AV-Test Institute tests and rates antivirus software. It tested Microsoft Defender Antivirus against more than 20,000 malware samples, and gave it a perfect score for protection.
The software also outperformed industry averages in other areas, such as its impact on computer performance.
The current Microsoft Defender Antivirus is effective because it scans file and process behaviors, as well as other heuristics, to protect your machine in real time.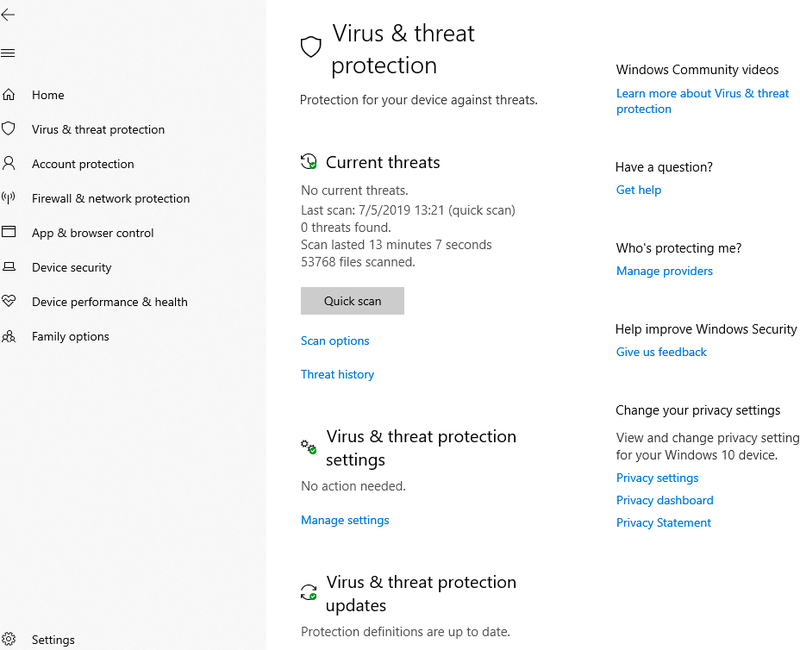 Microsoft Defender Antivirus provides an interface to view the latest scan results. Source: Microsoft.com.
Not only does it catch unsafe apps, Microsoft Defender Antivirus can also detect and block those not identified as malware by leveraging data housed in Microsoft's cloud infrastructure.
Microsoft Defender Antivirus also updates automatically, so you're always using the latest version. It performs these updates in the background without interrupting your work or slowing your computer.
User interface
For the most part, you want your antivirus software to do its work in the background, and leave you alone. But when you want to view scan results, you require a user interface (UI).
Because Microsoft Defender Antivirus is part of Windows Security, it's tucked into the Windows Security UI. It's located under the Virus and Threat Protection option.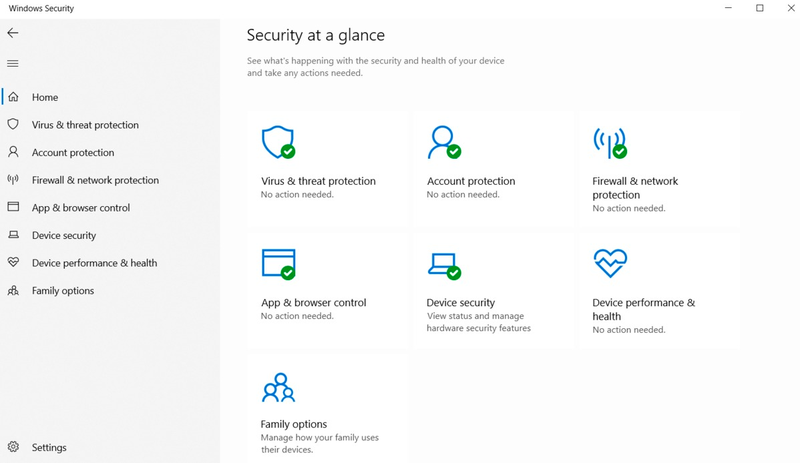 The Windows Security screen includes Microsoft Defender Antivirus among its security options. Source: Microsoft.com.
This UI is standard on Windows 10 PCs, and designed for the individual computer user. An IT team managing several PCs will want access to more robust network computing tools. Microsoft makes these tools, such as Intune, available for separate purchase.
Threat detection
Antivirus software is ineffective if it can't accurately detect and catch threats. The same is true if it mistakenly flags safe software as malicious.
Microsoft Defender Antivirus avoids these issues. It combines the knowledge of cybersecurity experts with artificial intelligence (AI) and Microsoft's cloud infrastructure to analyze billions of data signals on an ongoing basis.
Its AI accurately identifies legitimate attack patterns while allowing safe software to pass. In tests using over one million software samples, Microsoft Defender Antivirus correctly caught the malware with 100% accuracy.
Another key threat detection component is stopping the attack in a timely manner. Microsoft Defender Antivirus performs continuous, real-time monitoring. This means it can detect and stop malware before any damage is done.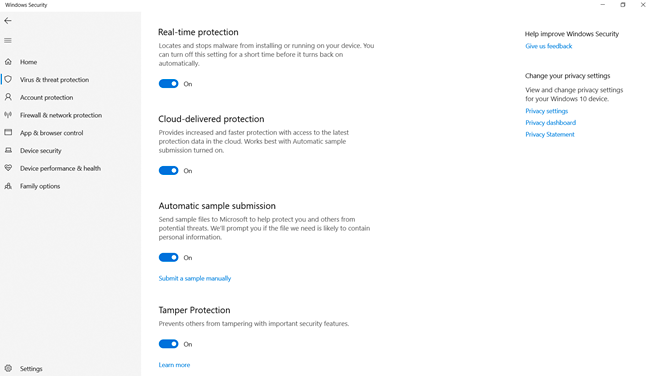 You can configure the threat detection settings in Microsoft Defender Antivirus. Source: Microsoft.com.
The approach used by Microsoft Defender Antivirus is so effective that it can catch new and emerging threats. In testing, it stopped zero-day attacks, which are newly discovered software vulnerabilities where no official fix is available. This feature is critical, since cybercriminals constantly evolve their attacks.
Reporting
Minimal reporting capabilities come standard in Microsoft Defender Antivirus. You get a summary of your current and past virus scan results and a history of the software updates. That's all.
Smaller businesses without a formal IT group can get by without security reports. If your company employs an IT team or a security operations center (SOC), you'll need additional tools that encompass threat reporting and analytics to identify network vulnerabilities.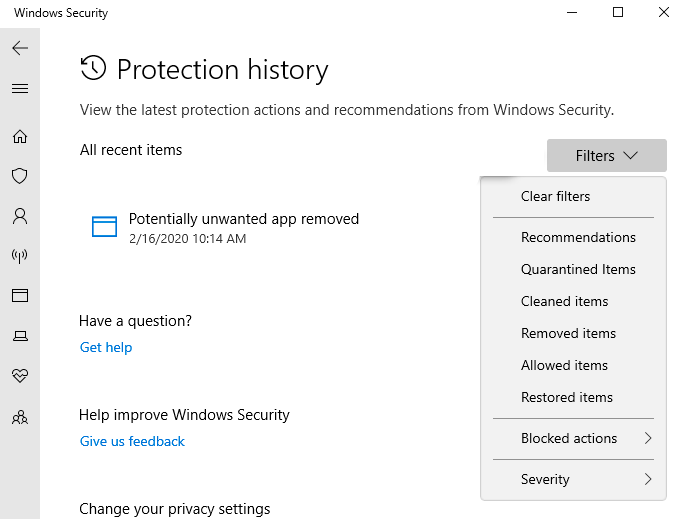 No reporting is available, but you can view and filter a history of actions taken. Source: Microsoft.com.
Microsoft offers such tools and reporting capabilities for separate purchase. Some come with a Windows Enterprise software license.
Additional security features
Microsoft Defender Antivirus is excellent at stopping malware, but it does nothing else. Malware isn't the only endpoint security concern. Microsoft Defender Antivirus by itself won't suffice for business use.
That's why the inclusion of Windows Security on Windows 10 PCs is a critical part of endpoint protection.
The Windows Security suite delivers additional features such as a firewall and browser protections to stop browser-based attacks (although users of Chrome or Firefox browsers must install an extension to activate this).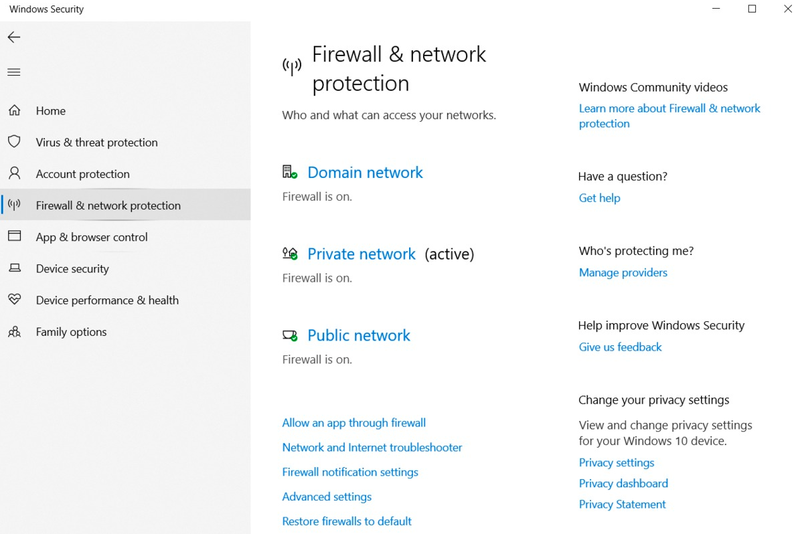 A firewall is just one of the additional features available with Windows Security. Source: Microsoft.com.
Additional security features beyond what's included in Windows Security are available, depending on the Windows 10 software license you purchase. Small businesses should buy the Windows 10 Pro edition at a minimum.
The Pro edition includes capabilities that further enhance endpoint security, such as built-in data encryption.
If you're a midsize or large organization with many employees and devices to manage, consider Microsoft's Windows 10 Enterprise edition or seek other security software designed to protect and manage a large IT network.
---
Microsoft Defender Antivirus ease of use
Microsoft makes its antivirus product a pain-free experience. If you're a Windows 10 PC user, you enjoy several benefits:
No need to download the software formerly known as Windows Defender onto endpoints. You avoid installation headaches, since Microsoft Defender Antivirus is preinstalled.
No manual updates required. The software updates automatically with the latest protections.
It runs on its own, so you're constantly protected, and don't have the hassle of performing scans manually.
A simple, clean interface provides easy navigation.
These benefits are a hard combination to beat and, to top it all, the software is free. Of course, if you're not using Windows PCs, you'll have to install it.
Some of the software features in the UI are straightforward and quickly understandable. For example, you can easily configure notifications, so you receive only the kind of security alerts you desire.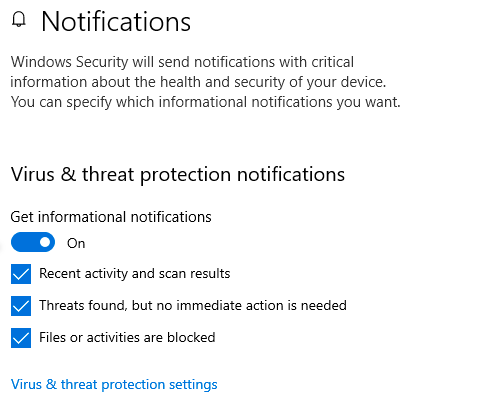 You can easily adjust settings, such as the security alerts you want to receive. Source: Microsoft.com.
Other functionality is harder to decipher. For instance, a tamper protection setting is one of the software's strengths (it's used to prevent malware from changing your security settings), but the tamper protection label isn't self-explanatory.
---
Microsoft Defender Antivirus pricing
If you're using a Windows PC, there's only one price for Microsoft Defender Antivirus: free.
Your main cost considerations are whether you must supplement Microsoft Defender Antivirus with other security software to meet your business needs, and if you must change your Microsoft software license. Windows 10 Pro is for small and medium businesses.
The standard price of a Windows 10 Pro license is $199.99 for one computer. Pricing varies based on factors such as the number of licenses you want to purchase.
---
Microsoft Defender Antivirus support
Microsoft's size and scope allow the company to offer a wide variety of support options. The level of help can range from a self-service portal to phone support and training.
Microsoft's chat support allows you to get help at any time through its virtual assistant. Community forums also provide you with assistance from other users.
The available options depend on the types of Microsoft software licenses and subscriptions you purchased. It's unfortunate the same level of support isn't available to all, but if you require technical support not covered by your purchase, you can buy a separate support plan.
---
Benefits of Microsoft Defender Antivirus
The biggest benefit delivered by any antivirus software is protection. Here, Microsoft Defender Antivirus excels. You don't need to find other malware protection.
For the quality delivered, Microsoft Defender Antivirus is an exceptional value considering it's free on Windows 10 PCs. Another advantage is that it's preinstalled, saving you time and effort.
These benefits are hard to beat, and are further enhanced by the additional capabilities bundled in Windows Security. The combination delivers reliable protection, and establishes a good starting point for organizations building out IT security infrastructure.
---
A solid antivirus solution
As a malware security option, Microsoft Defender Antivirus is a good choice. The product addresses malware with a high degree of speed and accuracy.
Microsoft Defender Antivirus is particularly compelling because it's free and packaged with the Windows Security suite on Windows PCs. For a small, local business or an individual entrepreneur with few IT demands, this combined security option is sufficient to meet most needs.
Larger organizations with many computers or employees require a more scalable, holistic security solution. You need tools allowing quick, comprehensive IT security management and analysis. Microsoft Defender Antivirus alone is not sufficient to solve these challenges.
Consider the needed functionality in the context of your larger IT security goals. For example, Microsoft's Intune product lets you efficiently manage IT functions across a large organization, such as setting endpoint security policies.
You can start with Microsoft Defender Antivirus, and based on your security requirements, purchase the appropriate Microsoft business software license and subscriptions, or check out The Blueprint's reviews for the best endpoint security software to find a more comprehensive fit for your business needs.
---
Frequently Asked Questions for Microsoft Defender Antivirus
What's involved to activate Microsoft Defender Antivirus?
If you're on a Windows 10 PC, there's nothing to do. The software is automatically installed and activated.
If you're not on a Windows PC, you'll have to download and install Microsoft Defender Antivirus. Computers running an older version of Windows should upgrade to Windows 10 to get the latest security features.
What if I already have antivirus software?
Microsoft makes it easy to accommodate your choice of antivirus software. Microsoft Defender Antivirus turns itself off if it identifies the activation of other antivirus software.
If you later decide to turn off the alternative software, Microsoft Defender Antivirus will turn itself back on to ensure your PC remains protected.
Does Microsoft Defender Antivirus protect my mobile devices?
The protection afforded by Microsoft Defender Antivirus extends to mobile devices if you're a business with a Windows 10 Enterprise software license. For those customers, a Microsoft Defender Antivirus app is available for Google Android devices. Microsoft has yet to release a version for devices using Apple's iOS.
Mobile devices aren't as frequently attacked as PCs, and those using Google's or Apple's operating systems already receive various security features from those companies. So if you're considering Microsoft Defender Antivirus, expect to focus on desktop and laptop devices.
VIA | fool.com